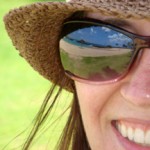 Mureall Hébert is a children's & young adult writer who believes that good fiction is as essential to life as breathing.
She was born in Canada, but traipsed through three different countries by the time she was eight years old, ending up in Northern California.
She graduated from the University of Hawaii with a degree in nursing and spent innumerable years working the night shift as an emergency department nurse—a place of bizarre-but-true experiences, many of which will undoubtedly find their way onto the written page in some shape or form.
After her first child was born, Mureall left nursing and went back to school at Washington State University, this time earning a degree in humanities and English.  From there she directed her attention to writing, co-creating an online e-zine and working as a freelance journalist for print and online newspapers.  First loves can't be forgotten, though, and eventually Mureall gave up journalism to focus her efforts on fiction. She writes short stories and poetry for all ages—but her heart lies with children's and young adult fiction.
She lives with her husband in the Pacific Northwest, along with their three children, and two insanely happy Golden Retrievers.
Her fiction has appeared or is forthcoming in numerous print and online magazines, including YARN, Five 2 One Magazine, Reflex Fiction (Spring 2017 long-list), Apeiron Review, Epigraph, The Blotter Magazine, Nailpolish Stories, Whidbey Life Magazine, Yellow Chair Review, decomP magazinE, Quantum Fairy Tales, The Furious Gazelle, Lunch Ticket, Stone Crowns Magazine, Crack the Spine, Bartleby Snopes, >kill author, Short, Fast, and Deadly, The Citron Review, Soundings Review and Bacopa Literary Review (Honorable Mention, 2012 short fiction contest.)  Her young adult novella was published in the anthology StereoOpticon.
She holds an MFA in creative writing from the Northwest Institute of Literary Arts with a focus in children's & young adult writing. She's worked as the children's & young adult editor for Soundings Review, an editor with Whidbey Writes, and a guest judge/assoc. editor for a variety of literary organizations & contests, including the CLMP Firecracker Awards and Amazon's Breakthrough Novel Awards (ABNA).
Mureall is currently working on a young adult novel.